Star Wars The Old Republic's Game Update 5.9.3 is now live on the PTS! The crowning jewel of this update is a new Huttball Map, The Skyshredder, set on Vanden (KOTFE Chapter 13).
Here's our first look at the map (click on the image to enlarge it).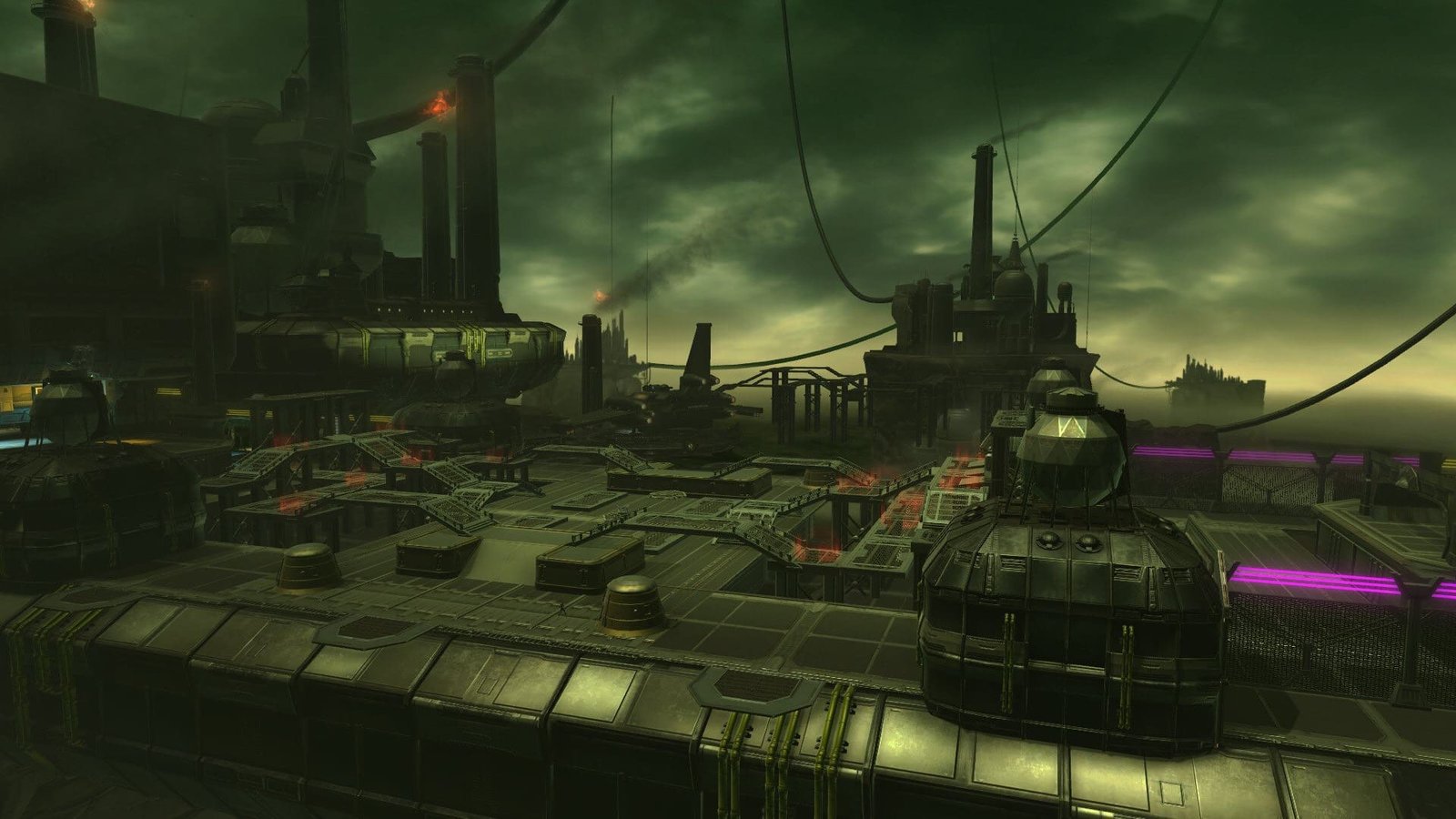 It is described in the PTS Feedback thread as having new traps and we'll even be able to fall off the side of the map.
Please use this thread to post your feedback on the new Vandin Huttball Warzone. Any and all feedback is welcome. A few things that are different about this Warzone that you should be aware of:

There are new traps!
You can fall off the sides of the map.

Let us know your thoughts.
There will also be PTS Playtest sessions with Developers participating incognito. There should be more sessions announced in the future.
Hey folks,

Like we did for previous PTS updates, we are going to be running some focused playtest sessions for the new Vandin Huttball Warzone. This will allow us to ensure that a higher volume of players are in the queue at one time. The playtests will occur:

Friday, 8/31: 2PM – 4PM PDT (9PM – 11PM GMT)
Saturday, 9/1 10AM: 12PM PDT (5PM – 7PM GMT)

Like always, we will be running around playing incognito alongside you! Hop in and don't forget to pass on your feedback on the new map, here.

In order to participate simply have a character of any level on any faction and queue up within the specific window. As a note, if you end up in an Arena match instead of Vandin, do your best not to leave the match. Instead try to complete it as quickly as possible and then requeue.
For instructions on how to get onto the PTS, you can read my guide here: How to get onto the PTS
I'll update this article as more info comes to light and people test the map.
Update: Here are a couple of screenshots!
Update 2: A couple of my tweets
It's basically the original Huttball Map but on steroids. It has 3 levels in sections. They're jump pads, you get a grappling hook, and there is an area where you can fall off (get knocked off) the map. Also where all the health packs are haha. #SWTOR #swtorfmaily

— ✨Xam Xam? (@Rach_Games) 31 August 2018
That's a wrap for the first PTS Playtest session. Had some q hiccups that cut it short, unfortunately. Having @musco visible on the (Imp) fleet to communicate things helped! Overall I quite like the new map (way better then Quesh IMO) will provide detailed feedback later! #SWTOR pic.twitter.com/gQ4p51ty0x

— ✨Xam Xam? (@Rach_Games) 31 August 2018
Update 3: Here is the map!