Star Wars Celebration will soon be upon us and Star Wars The Old Republic will be there both inside and outside Celebration! Whether you'll be attending Celebration, the Cantina or just want to be able to keep up with the latest SWTOR happenings from home, here's everything you need to know about SWTOR at SWCC!
Star Wars Celebration Chicago
Location – Chicago, Mccormick Place
Date – Thursday, April 11th – Monday, April 15th
More information about Star Wars Celebration can be found on the official Website.
SWTOR at Celebration
SWTOR Fan Community Booth
SWTOR Community Cantina (outside Celebration)
---
SWTOR Fan Community Booth
Swtorista ( SWTOR YouTuber and SWTOR Subreddit Moderator) has put together a SWTOR Fan Community Booth for Star Wars Celebration!
Prominent members of the SWTOR Community and passionate fans have come together to help Swtorista organise and put together this Booth. Some will be assisting her as Volunteers throughout Celebration.
If you're going to Celebration, you'll be able to find the SWTOR Fan Community in the Exhibit Hall at Booth #1344!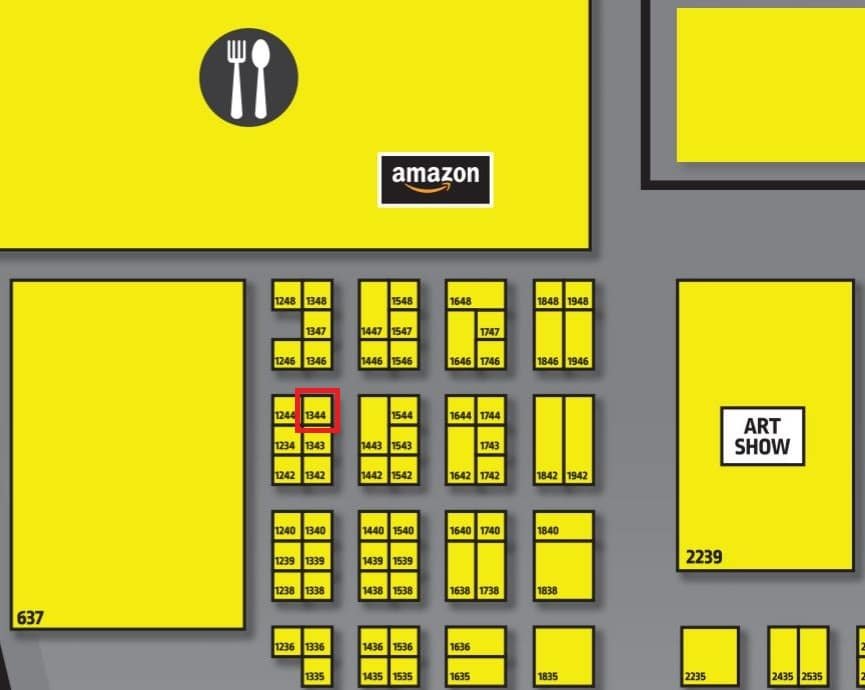 To keep up with the latest happenings at the Booth throughout Celebration, be sure to follow the Official SWTOR Fan Community on Twitter at @swtor_community!
What is the SWTOR Fan Community?
The SWTOR Fan Community consists of many players, community leaders and content creators who are passionate about SWTOR.
Who is a part of the SWTOR Fan Community?
#SWTORfamily on twitter
The SWTOR subreddit
The large SWTOR Discord Chat
The largest SWTOR Facebook group, the SWTOR Players Club
The Cosplayers of the Old Republic, a cosplay Facebook group
Podcasters, Video makers, Streamers, and Bloggers listed here
What will the SWTOR Fan Community be doing at Celebration?
Giving out Swag – The volunteers will be giving away 1,000 buttons and 2,000 art postcards to visitors that show iconic characters from the game.
Giveaways – There will be over 1 billion credits and 200,000 cartel coins worth of prizes! You'll be able to enter online or in person at the booth!
Datacron – Swtorista has made in incredible life-size replica on an in-game Datacron. Attendees to the booth will be able to get photos with it if they wish!
Cosplayers of the Old Republic – the booth will be right beside the Cosplayers of the Old Republic and we will be sharing space with them. You can learn more about their group here and view photos of their cosplayers who are attending: https://swtorfancommunity.com/cosplay/
Computer – A player has generously donated a Computer so visitors can try out the game! Visitors will get to play on a special account pre-set-up that has all 8 classes ready to try out.
Booth Volunteers
The booth will be staffed by volunteers from the community. Some of the notable community members include Dekion, Fyonha from Ootinicast, Streamers Kogass and Lady Rann, Wil the D&D enthusiast, Six the SWTOR Discord Moderator, Mox & Jessie from Passionately Casual podcast, Alise & Majikace from The Council podcast, and will be supported by other players attending like Max from the Escape Podcast, Ted from the SOTOR podcast, and many, many other SWTOR fans.
Volunteers manning the booth will be easy to identify by these custom made name tags.
What will the SWTOR Fan Community be doing Online?
In the lead up to and during Celebration, there will be a number of things happening online so all of the SWTOR Community around the world can get to experience Star Wars Celebration!
Streaming – A number of attendees will be attempting to stream from the booth and will be pairing up with streamers and podcasters to do so! A schedule will be published
Photos – photos taken at the booth will be automatically uploaded to the @swtor_community twitter!
Guild Directory – Swtorista created an online Guild finder (https://swtorfancommunity.com/guilds/). There are over 100 active Guilds already published in the directory! If you are an officer or GM of a Guild and want it added to the directory, contact Swtorista at @swtorista on twitter, /u/swtorista on Reddit, swtorista@gmail.com by email or Swtorista#0153 on Discord.
Giveaways – Keep an eye out for giveaways on Twitter, Reddit, Discord, Facebook and from content creators in the week leading up to Celebration.
Streaming Live
A number of streamers will be attempting to Stream live from Celebration (no guarantee's though).
A full schedule of Streams will likely be up a few days before Celebration.
Some of the things they hope to be covering at Celebration:
Cosplayers of the Old Republic Interview Booth #1244
SWTOR / KOTOR Cosplayers in Costume
Photoshoot: Friday, April 12, 2019, 2:00 PM – 3:00 PM CDT the Cosplayers of the Old Republic photo shoot
SWTOR Devs
SWTOR Fans on the floor
Galaxyprops exhibitor will be selling lots of SWTOR / old republic props!
Pride Squadron LGTBTQ in SWTOR/KOTOR Booth #1346
Cantina: Before the event (April 13 in line at 6 PM CDT)
Cantina: During the event (April 13 starts at 7 PM CDT to about 8 PM)
(Maybe) Panel: The Art and Craft of Video Game Writing Mon, Apr 15 – 11:45 AM – 12:45 PM CDT – Charles Boyd and author from Alphabet Squadron; Twilight Company panel.
---
The Official SWTOR Community Cantina
SWTOR's official presence at Star Wars Celebration will be at the SWTOR Community Cantina. It isn't taking place in Celebration itself (so you don't need a Celebration Ticket to get in) but it is happening close by.
Registration will be required for admittance into the Cantina. You can do this in advance online here (recommended) or do it onsite before the Event.
Here are the details.
Venue – Marriot Marquis Chicago in the Grand Ballroom

Address – 2121 S Prairie Ave, Chicago IL 60616

Date – Saturday, April 13th 2019

Time – 7:00 PM – 11:00 PM CDT (Sunday Midnight UTC, 2:00 AM CEST, 10:00 AM AEST)
There will be exclusive swag for all attendees as well as a Q&A with the Developers. There may even be an announcement about upcoming future content (hinted in a recent interview by Peter the Selkath with Eric and Charles and on the Developer Tracker). If you're going to be in the Chicago area around Celebration, I'd highly recommend attending! Events like these are not to be missed!
I reached out to Bioware Austin for further comments on what we can expect at the Cantina. They remained very tight-lipped about their plans but did say that around 12 Developers will be in attendance! So that should mean plenty of opportunities to have any questions you may have directly answered by a Dev!
For those of us who won't be there, there are a number of attendees who will be attempting to stream the Cantina or cover it via some other means (the Q&A and Announcements at least). A full list of individuals covering the Cantina will be published a couple of days prior to the Cantina.
---
Want a chance to win a 30-day Sub Time Code courtesy of Swtorista? Reply to this Article or tweet me (@Rach_Games) and tell me what you are most looking forward to about SWCC (whether it be SWTOR or Star Wars related) and you'll be entered into the drawing to win a 30-day Sub Time Code!