Star Wars The Old Republic's Game Update 7.1 is introducing a new Daily Hub area located on Manaan. The new Manaan Dailies have a Reputation Track with a Reputation Vendor with numerous rewards available for purchase as your rank up your reputation. Here is my overview of everything on the Manaan Reputation Vendor in SWTOR based on the Game Update 7.1 PTS.
---
Contents
---
How to Earn Reputation on Manaan in SWTOR
You earn Manaan Reputation by completing dailies for your faction or looting Reputation Tokens off of random mobs on Manaan. You will need to have completed the Legacy of the Sith Storyline and do story missions on Manaan to access the Manaan dailies. You can find the dailies terminal in your factions base.
---
Manaan Daily Area Location
The Manaan Daily area is located on the planet Manaan.
If you have completed the Legacy of the Sith story, the Manaan Daily area will show up in the Activities Window with all the other daily areas in the Solo Tab. This allows you to teleport straight to the daily area without using the galaxy map.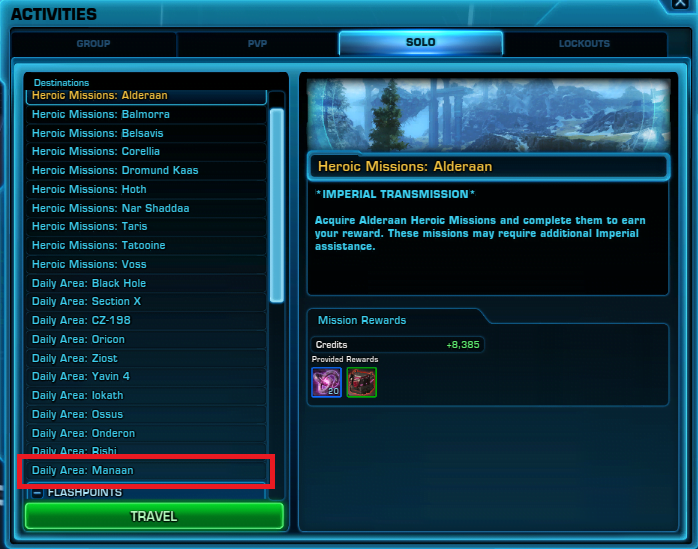 Tip: If you're travelling to Manaan via the Galaxy Map, make sure you have the 'Invasion Zone' area selected before you click 'Travel Now'. This will take you straight to your faction's base on Manaan where you can pick up the dailies.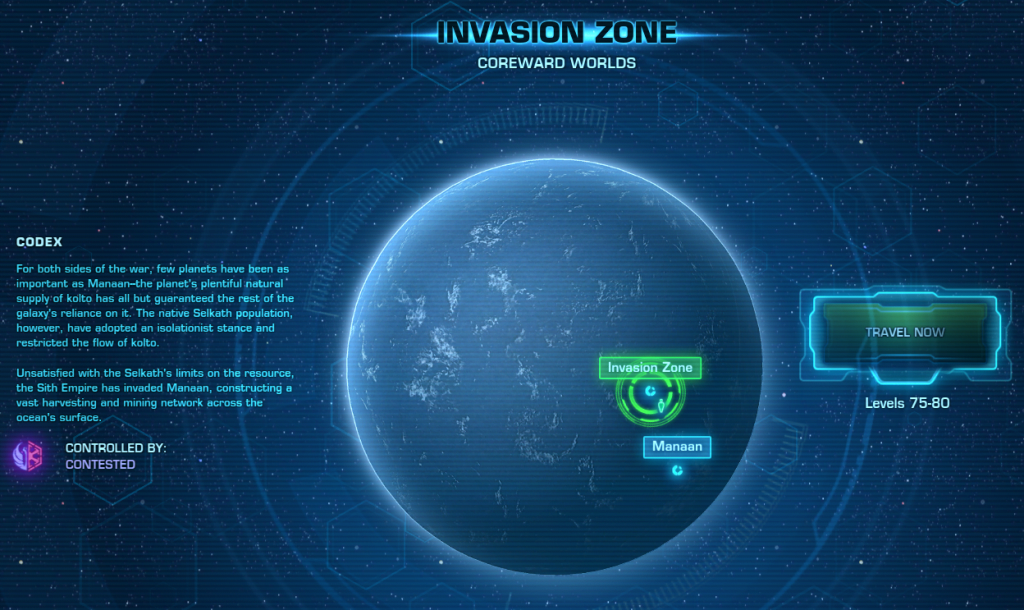 ---
Where is the Manaan Reputation Vendor Located in SWTOR?
The Manaan Reputation Vendor is located in your faction's base on Manaan. It may only be accessible after completion of the Legacy of the Sith Story.
Vendor Names
Imperial – Agent Pagran
Republic – Representative Lumoc
---
Manaan Reputation Vendor Item List
There are quite a few items available on the Reputation vendor. Here are lists of all the items.
Reputation Vendor Detailed Item Tables
Reputation Vendor Items List Images
---
Manaan Reputation Vendor Item Previews
Here are categorised previews of all the items on the Vendor.
Decorations
Weapons
Armour Sets
Miscellaneous
---
Special Thanks
Many thanks to Kal - Today in TOR and Andynul for giving me info for the Manaan Republic Base and Reputation Vendor. And a special thank you to my Patrons and Twitch Subscribers for your continued support!
Let me know your thoughts in the comments below or on Social Media. And thank you, yes you, for reading this Guide!