With every new expansion in Star Wars The Old Republic comes changes to the gearing system. One of the major letdowns with Game Update 7.0 was the lack of Item Modifications. With Game Update 7.1, Bioware has added Level 80 Item Modifications for select Item Rating Tiers. Here is a guide on how to get access to them.
Also included in this guide is a recommended Stat Section. Currently, it includes all the PvE Stats.
To be added soon – specific info about stats for PvP all classes/roles.
---
Table of Contents
---
Important Information about Level 80 Item Modifications
There are a couple of things to note before you get started.
There are certain requirements that must be met to gain access to the Item Modification Missions.

Must have gear equipped at Item Rating 324 or higher.
The missions and access to the vendor can bug out if you are in a group.

It is likely intentional that only enhancements are artifact (purple) quality and every other modification type is only prototype (blue) quality (you can also get prototype quality enhancements).
---
How to get Item Modifications at Level 80 in Game Update 7.1
Item Modifications are now available at Item Rating 328 and 330 and can be purchased from a vendor with Credits. However, to gain access to the Item Modification Vendor, you have to complete Missions. Speak to Hyde who can be found in the Supplies Section of your factions Fleet to get started.
Level 80 Item Modifications Mission Access Requirements
In order to pick up the Missions from Hyde, you must meet the following requirements.
Must have gear equipped at Item Rating 324 or higher.
Do not be in a group while trying to do the missions or access the vendor, it bugs out and doesn't work.
How to Complete the Item Modifications Missions
When you speak to Hyde, you will eventually get to choose from four different missions.
328 Prototype Modifications
328 Artifact Modifications
330 Prototype Modifications
330 Artifact Modifications

You need to pick a mission that matches the gear you have ready to deconstruct. For example, if you have a 328 Thyrsian PvP Gear piece, you can pick the 328 Prototype or 328 Artifact Mission.
Deconstructing Gear
Once you pick your mission, deconstruct any piece of gear that matches or is higher than the required item quality and item rating. The mission description will give you more details. It does not have to be an armour piece. Deconstructing gear pieces such as an Earpiece will progress the missions as well.
The Table below shows the gearing paths with the item rating and quality of gear needed to access modifications.
Note: You cannot deconstruct Legendary Implants.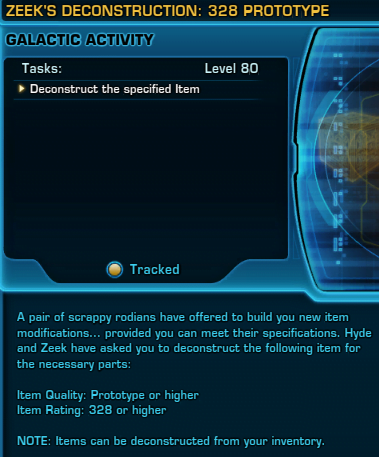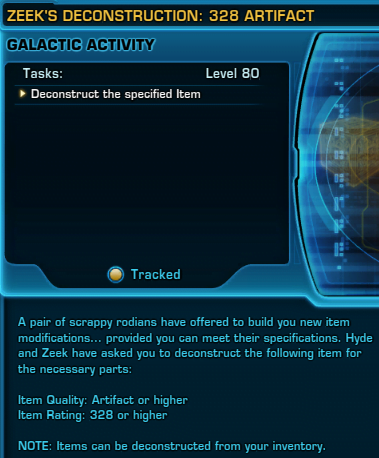 If you're starting from the beginning, I would recommend picking a main gearing path (ie. content you enjoy) and focusing on that then doing some of the other paths as well to make gearing up faster. Do as many weeklies as possible for guaranteed upgrades.
Once you deconstruct the piece of gear that meets the requirements, return to Hyde and talk to them. Once you finish the conversation you will have access to the Item Modification Vendor, Zeek.
You will need to complete both missions at each Item Rating to get full access to the Modifications at that Item Rating Tier.
Prototype Mission (328 & 330): this gives you access to all prototype (blue) item quality Mods, Armourings, Enhancements, Barrells and Hilts at both 328 and 330 Item Rating.
Artifact Mission (328 & 330): gives you access to artifact (purple) item quality enhancements only (this is likely intentional) at both 328 and 330 Item Rating.
---
Level 80 Item Modifications Costs
Modifications cost Credits. You may need to select 'All' using the dropdown menu to see all the available Item Modifications.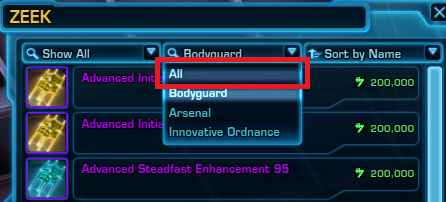 The costs are as follows.
Prototype Modifications – 100,000 Credits each
Artifact Enhancements – 200,000 Credits each
Here is the full inventory of modifications available at 328 and 330 once all missions are completed.
Total Cost
Here is a breakdown of how many credits it will cost to fully equip one character with Item Modifications at both Item Rating 328 and 330.
Armourings – 100,000 x 9 – 900,000 Credits
Mods – 100,000 x 9 = 900,000 Credits
Enhancements – 200,000 x 9 – 1,800,000 Credits
Total Cost = 3,600,000 Credits
---
Level 80 Item Modifications Stats (328 and 330)
Here is a look at the stats of the various Item Modifications.
Item Rating 328
Item Rating 330
Prototype versus Artifact Enhancements
Here is a comparison of Prototype (Blue) and Artifact (Purple) quality Enhancement stats.
Item Rating 328 Alacrity Enhancements
Item Rating 330 Alacrity Enhancements
As you can see from the above images, the artifact (purple) quality enhancements have more power and less endurance while the prototype (blue) enhancements have more endurance and less power. However, the Tertiary Stat (Alacrity) remains the same.
For DPS and Healers Artifact Enhancements are best in slot (BiS).
---
How does the Level 80 Item Modifications Stat Budget compare to Unmoddable Gear?
When you add up the Item Modifications stat budget versus static/unmoddable gear stat budget, the amount of stats you get from item modifications are identical to the BiS unmoddable gear of each tier.
328 Versatile Armouring (Blue)
592 Mastery
517 Endurance
328 Lethal Mod (Blue)
489 Mastery
398 Endurance
430 Power
328 Adept Enhancement (Purple)
363 Endurance
398 Power
543 Alacrity
Thyrsian 328 Med-Tech Chest
1081 Mastery
1278 Endurance
828 Power
543 Alacrity
Total Modification Stat Budget Combined
1081 Mastery
1278 Endurance
828 Power
543 Alacrity
At item rating 328, Thyrsian (PvP) and Rakata (NIM PvE) gear is the best static gear you can get. Rakata (NIM PvE) gear is the best static gear you can get at 330 Item Rating.
---
Are Item Modifications Worth it in Game Update 7.1?
Ultimately the modification system should be treated like a catch-up system for newer or returning players (assuming you have the credits) and an easy way to gear alts. It also provides a way to get gear for content you don't do as much. For example, if you mainly PvP, you can get gear for PvE much faster than doing Nefra farms. All you need are two 330 Rakata pieces or one Columi or R-4 SM Piece and one Rakata Piece (one for each 330 Mission) then you get full access to all 330 Item Rating Level Modifications.
If you are a PvPer, gaining access to 330 item Modifications will allow you to BiS your gear while staying at 328 Item Rating. It is more optimal to have some 330+ gear on than to be in full 328. Bolster will only reduce your stats if you go to item Rating 329 or higher so you can 'cheat' the system by wearing some gear higher than 328 while remaining at Item Rating 328.
---
What Level 80 Item Modifications Should I Get?
What Item Modifications you should aim to get depends on the content you do and your role.
If you are a PvPer, it comes down to if you are willing to do some PvE content or not to access 330 Modifications. While level-sync/bolster in instanced PvP is capped at 328 Item Rating, PvPers can BiS using 330 Item Modifications (as mentioned above). If you are unwilling to do PvE content then wearing 328 Thyrsian gear or using 328 modifications is your best bet while upgrading your Implants.
If you do PvE content, you should aim to get 330 Item Modifications. You will need at least one Rakata Gear Piece to upgrade to 330 then deconstruct to access Artifact (Purple) Enhancements. Otherwise, you can get Prototype gear from a variety of sources such as HM/VM Operations and SM R-4 Anomaly (see table above for more sources) to get access to the Prototype Modifications.
---
What Stats Should I Have?
Stat Thresholds have not changed since Game Update 7.0 Launch. They are as follows. Click on a tab to see relevant information.
PvP will be added soon!
---
Thank you for reading this guide! Let me know your thoughts in the comments below or on Social Media. And a special thank you to my Patrons and Twitch Subscribers for your continued support!