Monarch's Bluffs has had a makeover and undergone several changes as part of an upcoming update to New World, Brimstone Sands. The most striking of these are the visual changes to the Settlement itself. The main and side questlines have also been altered and several location changes have been made.
The Brimstone Sands Update features a massive brand new zone (Brimstone Sands), a new weapon (Greatsword), significant changes to the starting level experience and some territories plus loads of quality of life features.
What follows are comparison screenshots of the Monarch's Bluffs Settlement and a brief overview of some of the other changes within the territory. Please note the info in this article comes from playing on the PTR (Public Test Realm) and is subject to change. Everything seen and noted will be released with the Brimstone Sands Update in October.
---
Contents
---
Before and After Comparisons
Here are some comparisons of different parts of Monarch's Bluffs Settlement. The left screenshot is from live servers (Launch) and the right screenshot is from the PTR (Brimstone Sands).
Settlement View
A view of Monarch's Bluffs from a hill east of the settlement looking west.
Monarch's Bluffs South Entrance
The south entrance also features a drawbridge.
Monarch's Bluffs West Entrance
The rope fencing leading up to the Settlement was removed near all entrances.
Monarch's Bluffs East Entrance
There are no longer Lost in Crone's Rest they have been replaced by Wolves.
Fast Travel Point
The new outer walls are thicker and taller obstructing the views.
Town Square Houses
Most of the houses in Monarch's Bluff are incomplete ie. missing stairs or floors on this stage of the PTR. And yes, those are glass windows!
Tower
Yes, you can now go inside the tower!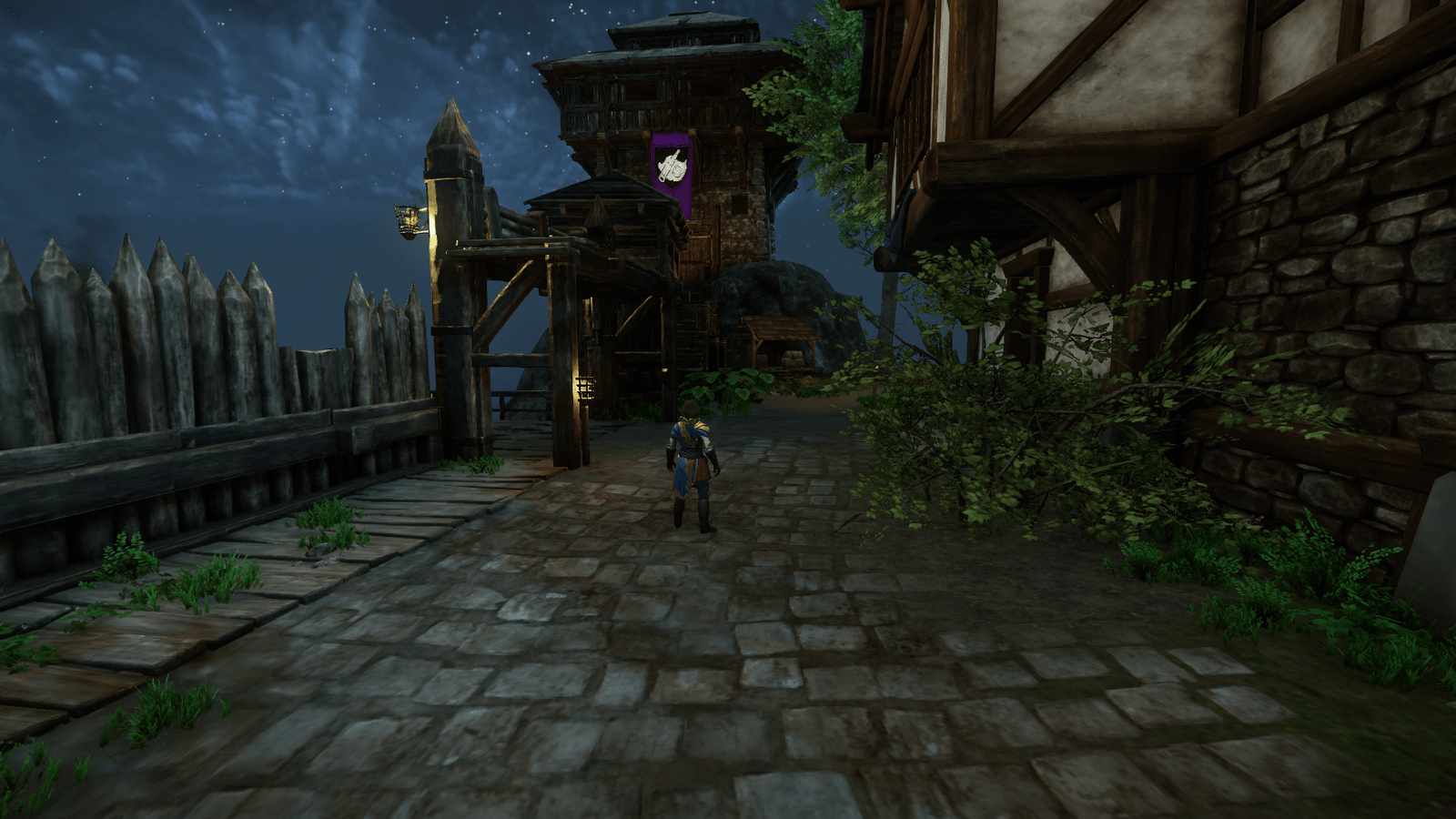 Town Square
The Trading Post still looks the same.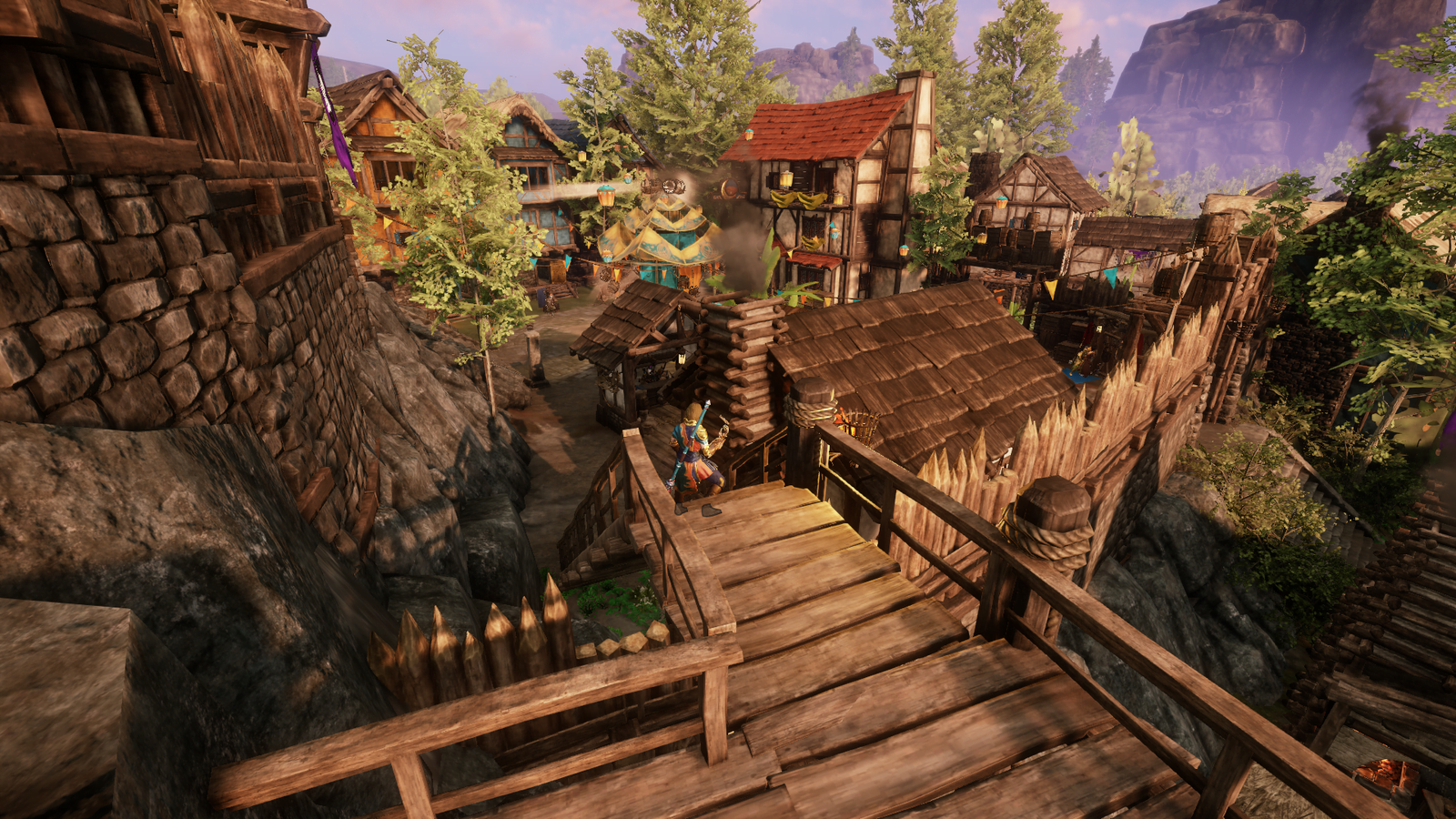 Street
The architecture of all the houses and Inn has been changed to be medieval looking.
---
What else has changed in Monarch's Bluffs?
There have been several quests and location changes made in Monarch's Bluffs.
Quick Facts
The Territory is now level 1 -17 (instead of 1-25).
There is a brand new unique medieval-themed main story for the zone.
Monarch's Bluffs Settlement now has a name – Prydwen.
Deadman's Cove is no longer an elite mob area. The mobs have been scaled down and you go there as part of the main zone story.
Mob variety and types have changed a little bit.
There is an additional smaller settlement (Preddieu Farms) where you pick up side quests. You will be led there as you do the main zone story.

Other side quests can be picked up near Quick Travel Points as you progress through the main story.

There are two new Fast Travel Points (Shrines).

Brysedd Overlook Shrine (North near Traitor's Hold)
Preddieu Shrine (Centre)
Location Changes
There have been several location changes in Monarch's Bluffs. Some locations were removed or renamed and brand new locations have been added.
New Locations

Fatentur
Brysedd Shore
Pendragon Landing
Teyrnon Keep
Corbenic Castle

Removed Locations

Reedgill Fishery
The Grey Mist
The Dagger
Tres Campos
Lodestone Lair
Highbloom Hovel

Renamed Locations

Mines de Miclot -> Cynefin Mine
Devil's Pit -> Hiraeth Lookout
Adamant Mine -> Hiraeth Peak
Achernar -> Khalladan
Lakeside Farm -> Preddieu Farms
Map Comparison
Here is a screenshot comparison between the Monarch's Bluffs launch map and what it will look like in the Brimstone Sands update.
---
Additional Monarch's Bluffs Screenshots
Here are some more screenshots of the Monarch's Bluffs Settlement from the Brimstone Sands Update PTR.
---
Thank you for reading! Let me know what you think in the comments below or on Social Media. And a special thank you to my Patrons and Twitch Subscribers for your continued support!