Star Wars The Old Republic's next Game Update, 7.2.1, is currently available for testing on the PTS. Included are some previews of the PvP Seasons 2 Rewards. Here's a look at some of the rewards coming soon to SWTOR. Be warned most of them are similar to the Season 1 Rewards, unfortunately.
I'll update this post if more items can be previewed in the future.
---
PvP Seasons 2 – What do we know so far?
The PvP Seasons 2 Track itself is not yet available to be previewed. All we know is that it the Season is called 'Piercing the Veil'.
The PvP Seasons Vendor, Tullek, has had his inventory changed to new rewards. The flags look almost identical to Seasons 1 flags. The armour sets are not able to be previewed currently but they may look similar to the Reward Track ones.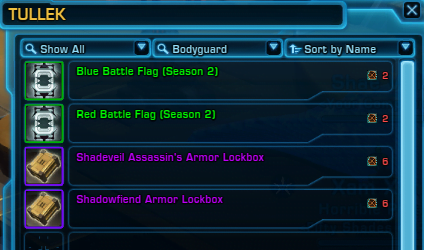 ---
Armour Sets
These two Armour Sets are from the Rewards Track. Like the first Season, both armour sets look nearly identical except for some 'lighting effects' added to one of the Armour Sets. In this case, the Shadeveil Armour Set.
---
Decorations
The trophy decorations are copies of their Season 1 counterparts, unfortunately. The Battler Trophy looks a little different though. Thankfully there is one unique decoration, the Ancient Blades Display Stand.
---
Other – Title and Flags
The Title is a Track reward and the Flag is on the vendor, Tullek. It looks kind of familiar…
---
What do you think of the PvP Seasons 2 Rewards so far? Would you like to see more variety?